Cone Beam CT Scan
The CS green ct scan system gives our oral and maxillofacial practice state-of-the-art technology to help the doctors diagnose potential issues more accurately and provide treatment with unprecedented confidence. Unlike a traditional spiral CT scanner, this 3D system utilizes cone beam CT technology and provides precise, crystal-clear digital images while minimizing your exposure to radiation.
Our new 3D system enables us to perform a wider range of diagnoses and treatments in our office, helping to reduce multiple visits. The CS Green Ct scanner allows us to choose the field of view, or scanning area, that best suits your specific treatment needs. This helps to limit your radiation exposure because we are focusing specifically on your area of concern.
The CS green ct scan system brings the latest 3D technology to MOSAIC Maxillofacial Surgical Arts & Implant Centers, providing unmatched visualization of anatomical detail which aids in treatment planning and helps us to better explain the particulars of your case, as well as address any questions you may have.
The doctors can use this innovative technology to quickly and easily share 3D images of the area of concern with your referring doctor – allowing the doctors to collaborate on your care, improve your experience, and deliver a positive treatment outcome.
HOW DOES CBCT WORK?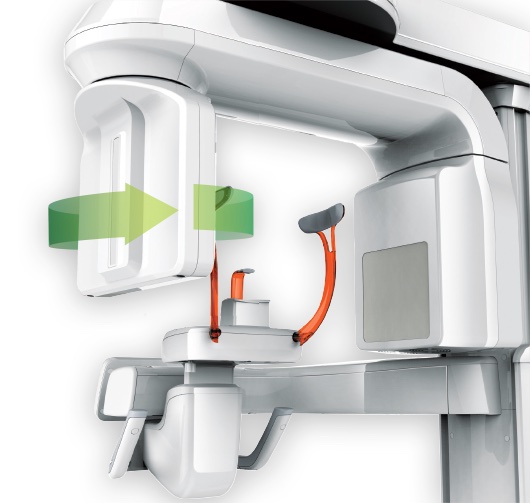 Unlike traditional 2-D X-rays, a CBCT machine rotates around the body, taking a large number of images using a cone-shaped X-ray beam which the computer then puts together to give us a three-dimensional view of structures.
This type of imaging gives us more information to work with when diagnosing, treating, and preparing you for oral and maxillofacial surgery procedures such as dental implant placement and the removal of impacted wisdom teeth.
HOW DO I PREPARE FOR CBCT?
No special preparation is required, however, you should wear comfortable clothing and remove any metal jewelry, eyeglasses, and dentures prior to the exam. CBCT is quick, comfortable, and painless.
RADIATION AND CBCT
Our Green CBCT machines produce less radiation than traditional CT scanners, VATECH's Green ct scan's innovative technology provides a ct scan with an ultra low X-ray dose protecting both our patients and staff. We only use a CBCT when we need a more comprehensive image than traditional X-rays can provide. Let us know if you think there is any chance you may be pregnant at the time of your consultation and prior to being exposed to any radiation in our office.