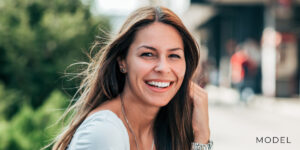 While any dentist can remove teeth, most dentists refer a majority of their tooth extraction cases, particularly the more complex ones, to qualified oral surgeons. There are a number of reasons why this is the case.
For one thing, wisdom teeth removal can often require surgical intervention. Oral surgeons have the specialized skill necessary to keep patients comfortable and ensure the best results. Additionally, they have the facilities and equipment needed for safe, successful surgeries.
Why Choose an Oral Surgeon to Extract Your Wisdom Teeth?
There are several specific reasons why we recommend choosing an oral surgery practice for your wisdom teeth extraction.
Oral Surgeons are Focused on Surgical Excellence
General dentists are so named because they provide a range of more generalized services, including routine cleanings and some basic restorative dental work. Oral surgeons, on the other hand, are significantly more specialized. An oral surgery practice like ours provides a much higher level of focus on services, such as dental implants and wisdom teeth removal.
As experienced oral surgeons, we know the least invasive and most successful methods that will provide reliably strong results for our patients. It also means that we are well-equipped to keep patients safe and well even with highly complex cases.
Oral Surgeons Know Wisdom Teeth
Oral surgeons are not only well-versed in surgery. They are also quite familiar with how wisdom teeth grow, how they function, and how they can be removed.
What this means is that oral surgeons can identify the best way to remove your wisdom teeth in a way that expedites healing. Our oral surgeons have years of experience and are prepared to address even more complicated cases, including wisdom teeth that are impacted or badly damaged.
Oral Surgeons Have Training in Anesthesia
If you have never had your wisdom teeth extracted, you may have some reservations about experiencing pain and discomfort. This is another reason to choose an oral surgeon to do your procedure. The best way to avoid any kind of pain during the procedure is to have the correct sedation method, which often includes either general or local anesthesia. Oral surgeons have the training to administer anesthesia in a way that not only keeps patients comfortable, but also keeps them safe.
Modern operating facilities and monitoring equipment are a priority, providing further reason to trust an oral surgeon with your care during a wisdom teeth extraction.
Remove Your Wisdom Teeth With An Oral Surgeon
Having your wisdom teeth removed can be an important way to avoid long-term dental health complications. As you seek a qualified oral surgeon, we invite you to consider Mosaic Maxillofacial Surgical Arts & Implant Centers in Clearwater, FL.
Contact us whenever you are ready to schedule an appointment with one of our surgeons.